What to see and do
Shetland provides a wealth of activities and experiences to visitors and local alike, but our remoteness and stunning scenery
create the perfect location to just unwind or be creative. Havra is ideally suited as a base for either busy or idle holidays.
To Relax: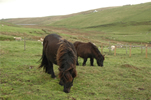 Logan&Lancer
Friendly Shetland ponies on your doorstep. Short walk to the nearby secluded sandy beach, with its own resident seals. Stroll along the peaceful single track road or along the shores of the nearby loch. Admire the sea view from Maywick from the comfort of a comfortable armchair in the sun lounge. St Ninians Isle is a short drive away and the stunning sandy isthmus is an idyllic spot for a restful stroll. Not to mention the several other large, peaceful sandy beaches within a few of miles. A short drive takes you to Sumburgh Head, where there are puffins galore, mere feet away. Many other seabirds too and if you are lucky you can spot a whale or two from there. There are excellent venues for dining out within short drives too. There's too much to mention here but you get the picture,if you want to do nothing, there are many ways to do it!

For Action: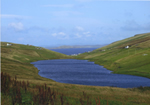 Maywick Valley
Though tucked away in the Maywick Valley, there's plenty to do on your doorstep and nowhere is more than a relatively short drive away in Shetland. There are a couple of outstanding archaeological sites nearby at Jarlshof and Scatness. Experienced wildlife guides can open the door to Shetlands wealth of wildlife for you. There's trout in the loch and if you are lucky and visit in the autumn there's sea-trout too. Nearby Spiggie Loch is absolutely brimming with trout and an RSPB bird reserve as well. There are two golf courses within 30 minutes drive. The hill walking nearby is ideal and there are walks to suit any abilities. The single track side-roads make for fantastic cycling and Shetland is an under-developed wonderland for mountain-biking.Snorkel from the nearby beach (there's a couple of caves around the headland, for the experienced swimmer). Climb the hills around the valley, and along the cliff tops. There's surf breaks all around the south of Shetland for those that can. World-class sea-kayaking. The list is endless.
For Culture: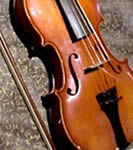 Traditional music
In Shetland there is always something going on, there are festivals of music, food, film, and literature throughout the year. The museum in Lerwick is an excellent way to spend a day and there are many other museums and heritage centres dotted around the countryside. Seek and ye shall find.
Check out Visit Shetland for lots more information!